It has been almost a month since Cyclone Idai and severe storms and rainfall led to the deaths of 738 people across Mozambique, Malawi and Zimbabwe, as well as the displacement of an estimated 270,500 people. More than 2,250 people have been injured and an estimated 2.6 million are affected by the cyclone-related flooding, including damaged property and roads, landslides, lost livestock and crops, and the loss of livelihood means.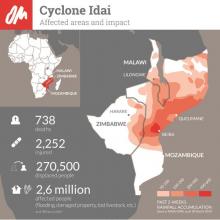 The cyclone that hit on Thursday, March 14 was a high-end Category 2 storm with 175 kph (110 mph winds) but the area had already experienced over a week of non-stop rain, and rivers were filled above normal. Prior to the landfall, the system brought heavy rains and flooding to the three countries resulting in the displacement of thousands of people, loss of life and the destruction of property.
The initial path of the storm crossed twice over the area where the OM team in Mozambique is based but was not as powerful as what later hit in Beira. The OM team in Mocuba, Mozambique is safe and accounted for. However, two of their family dormitories at the base were damaged by the weeks of unrelenting rain.
PLEASE GIVE to support the OM teams in the region to respond and help bring relief to the communities in their immediate areas.