​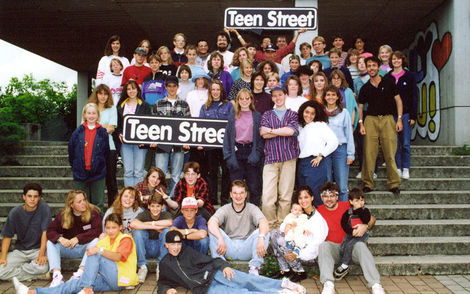 All participants at TeenStreet 1993 ​TeenStreet began in a pizza place in the Netherlands, in September 1992. Four people sat around eating pizza and dreamed of an international conference for teens.
Founders Dan and Suzie Potter explained, "We gave it the name 'TeenStreet' because the whole purpose was to give teens a street to travel upon . . . a way to go or live."
After much prayer and planning, the first TeenStreet took place in the summer of 1993 when 56 people met in Offenburg, Germany. The theme was "Living in an upside down world".
Ali was 15 years at the time. She recalls, "TeenStreet was an unknown camp for Christian teens from around in Europe. I arrived in a big hall … all of TeenStreet was in one building. Everything was done in a creative way and it was so much fun! I was touched when hearing stories of people not much older than myself and how God was using them. I really feel like it was a turning point in my relationship with God and my decision to live more fully for Him."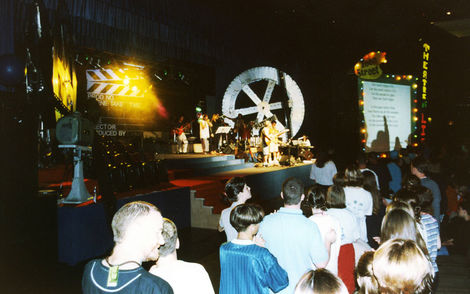 Stage at TeenStreet 1997 TeenStreet grew rapidly: in 1997 over 1000 people took part and in 2000 the number of participants topped 2000. Since 2003 there have been between 3300 and 3900 people attending the conference. For the first time in 2013, around 4,400 participants from 45 nations came to TeenStreet.
Until 2006 Dan and Suzie were responsible for the TeenStreet Germany programme. For them it was the "best and hardest times of our lives. God trusted us, and OM, with something much bigger than any of us. He could have given His dream to anyone, but He chose us and we pray that we are always faithful to his call."
And they remember a radical experience at TeenStreet 2002, "We called young people to make a difference in their world. We now meet hundreds of people who stood up in that particular meeting, who lived that choice and today they are serving all over the world."
In 2007 Irish-American couple Josh and Debs Walker took over the responsibility for the Main Hall programme at TeenStreet Germany. The two of them had been attending TeenStreet since the second congress.
They started out helping with the sports team and with interviews. Later they worked together with Dan and Suzie to plan the main meetings. Their heartbeat for TeenStreet and the teenagers is "to see teenagers reaching others, taking over responsibility, who know and live their gifts and become the ones God wants them to be." ​​
​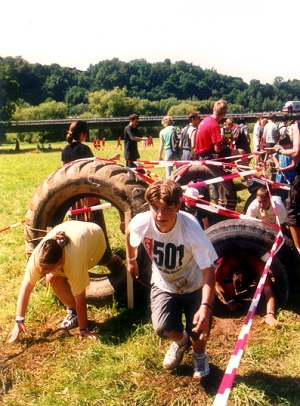 The obstacle course at TeenStreet
From the early days, participants were challenged not only to consume at TeenStreet, but also to share the blessing. "TNT" (Teens need Teens) was the name of the obstacle course, where on one day at TeenStreet the participants could run as many laps as possible. Sponsors at home or at TeenStreet sponsored them for each round and the proceeds went to OM projects for needy teenagers in Europe.
The crazy dressed up runners and the ostacles were the highlight of the TNT-race. In 2012, TNT was renamed in "RAG: raise and give" and the obstacle course became an official sponsor race. Teenagers can also get sponsors for taking part in a talent show and there is plenty of opportunity to give for RAG during TeenStreet.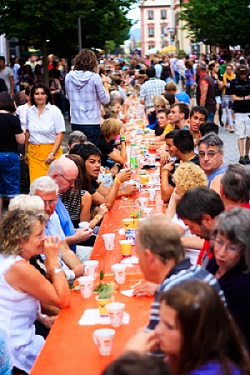 The longest coffee table in Germany
In 2008, an evangelistic mission was added to the program in line with the theme of the year "CONTAGIOUS". Since then, TeenStreet participants have been going to the respective city to share the love of Jesus in different ways: Bible exchanges, children's programs, sports, visits to refugee homes or social activities. One highlight in 2011 was when TeenStreet helped the city of Offenburg to host the longest coffee table in Germany. In the same year, the first Global Village took place at Teenstreet - an interactive simulated mission experience where participants experience the needs of the world.
In 2017, Josh and Debs Walker were on the TeenStreet stage for the last time and said goodbye after 24 years. A new international team of speakers followed them from 2018 on.
In 2017, TeenStreet turned 25. "Over the years, we have seen God work in and through the lives of teenagers, making them the young men and women he created them to be," explains Ger van Veen, director of TeenStreet in Europe until 2018.
"TeenStreet is much more than just a one-week event," explains Ger van Veen. "Thousands of young people leave TeenStreet every year and are empowered to live for Jesus and reflect him in their world."
Mini-TeenStreets and national reunion meetings take place all over the world. In addition to the founding event in Germany, TeenStreet is also held in Australia, Uruguay, Malaysia, Brazil, the Philippines and the Balkans.
And the history of TeenStreet is not over yet.
1993: Offenburg - You can change your world , 56 participants
1994: Friedrichshafen - Living in an upside down world, 220 participants
1995: Wolfsburg - Another day in paradise, 381 participants
1996: Mosbach - Original Copies, 600 participants
1997: Offenburg - Theater Of Life, 1.100 participants
1998: Wolfsburg - Dare To Dream, 1.200 participants
1999: Offenburg - Inside Out Revolution, 1.800 participants
2000: Mosbach - The Image, 2.100 participants
2001: Offenburg - Kingdom come, 2.700 participants
2002: Oldenburg - Secrets Revealed, 2.791 participants
2003: Offenburg - re:Discovering Jesus, 3.365 participants
2004: Oldenburg - Driving At The Speed Of Life, 3.510participants
2005: Münster - Time Machine, Remember The Future, 3.705 participants
2006: Offenburg - Metamorphosis, 3.911 participants
2007: Oldenburg - CONTAGIOUS: Infect Your Sphere!, 3.581 participants
2008: Oldenburg - Blindsight, 3.403 participants
2009: Offenburg - Impossible, 3.596 participants
2010: Oldenburg - XXIII, 3.512 participants
2011: Offenburg - REAL., 3.665 participants
2012: Oldenburg - NewSong 40, ca. 3.600 participants
2013: Offenburg - >>MORE, 4.350 participants
2014: Münster - OPEN, 4.400 participants
2015: Offenburg - Home 4.277 participants
2016: Oldenburg - Life 3.800 participants
2017: Offenburg - Unshakeable 3.800 participants
2018: Oldenburg - CLOSER, 3.200 participants
2019: Offenburg